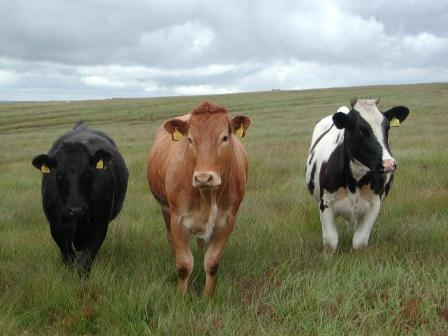 Driving across Colorado and Kansas

this last weekend I saw herds and herds of cattle. There were all different breeds, colors, sizes and ages. It reminded me of a story I once heard:
Once there was a dairy farmer who went to buy a new pickup truck. He had seen an ad in the paper about discounts and factory rebates, so he decided to trade in his old clunker. He chose a new model and was ready to write a check. The salesman said, "Wait, I haven't given you the final cost yet." The farmer said, "I saw the price advertised in the paper." The salesman said, "Oh, that's for the basic model, all the options cost extra." So the farmer paid the price and drove off in his new pick-up.
A few months later the salesman called the farmer because he wanted to buy a cow for his son's 4-H project. The farmer assured the car salesman he had several good milk cows for sale for $500. The salesman drove out and selected out a cow and took out his checkbook. The farmer said, "Wait. I haven't given you the final cost yet." Then he handed the salesman a bill that read:
Milk storage compartment 60.00
Straw recycle compartment 120.00
Four handy spigots @ $10 each 40.00
Leather upholstery 125.00
Automatic rear fly swatter 38.00
Fertilizer attachment 185.00
Whether you're buying cars or cows, it's important to get to what we call "the bottom line." What is the "bottom line" of following Jesus? You may go into "sticker shock" when you discover it. Many people are only interested in the basic model of Christianity. They want just enough Christianity to keep them out of hell without intruding on their lifestyle. You don't find the full cost of discipleship advertised very often these days. Few preachers discuss it because it is unpleasant; it doesn't fill pews.
Here is what Jesus said, "If anyone desires to come after Me, let him deny himself, and take up his cross daily, and follow Me. For whoever desires to save his life will lose it, but whoever loses his life for My sake will save it. For what profit is it to a man if he gains the whole world, and is himself destroyed or lost?" (Luke 9:23-25).
Are you a disciple? Do you desire to follow Jesus? Surrender to Him (lose your life). I really think that Jesus isn't just after attenders or spectators, but disciples. He doesn't just want 10,000 well-dressed carnal believers to gather in an auditorium every Sunday. He is looking for more.
Is Jesus looking for more from you today?
Do you understand the cost?
What act of surrender will you take today?
Please leave a comment telling about your act of surrender: