I should have bought stock in the T-shirt industry. It seems of the making of souvenir T-shirts there is no end. People are using T-shirts to send all sorts of messages. T-shirts advertise products, identify work places, and make political statements.
Other T-shirts reward people for their participation. Run a 10K marathon in the sweltering heat, pounding the pavement, crossing the bridges, up hill and dale, and what do you get for your effort? You get sore muscles, shortness of breath, and a T-shirt. No money, no plaque, but you get a T-shirt.
In fact, there are so many T-shirts, and they have been used so many times for so many events, that now people say cynically, "Been there, done that, got the T-shirt."

It's the bucket of cold water thrown on an ember. It's the calloused reply of those who feel too old, too jaded, too worldly-wise to try anything new.
Solomon captured this feeling, writing Ecclesiastes, "All is vanity, and there is nothing new under the sun." If Solomon were writing today, he might say, "Been there, done that, got the T-shirt."
One time I suggested to a church member that she participate in a Bible study. She said, "I don't go to Bible study." I said, "I know you don't; that's why I'm suggesting one." "No," she told me, "I don't go to Bible class. I went when I was younger. I taught Sunday School for years. So I don't do that any more."
In other words, "Been there, done that, got the T-shirt."
The writer of Hebrews knew that feeling too. This anonymous writer warned us what it means for our spiritual lives if we have a "been there, done that, got the T-shirt" attitude. Listen to the challenging words of the author of Hebrews:
let us go on to perfection, not laying again the foundation
of repentance from dead works and of faith toward God, … For it is impossible for those who were once enlightened, and have tasted the heavenly gift, and have become partakers of the Holy Spirit, and have tasted the good word of God and the powers of the age to come, if they fall away, to renew them again to repentance, since they crucify again for themselves the Son of God, and put Him to an open shame. (Hebrews 6:1-6)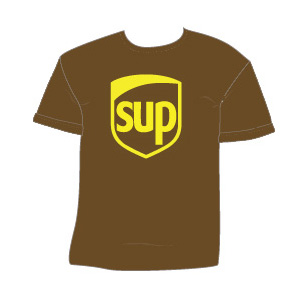 Challenging and frightening words. When our spiritual lives are mired in cynicism; when we believe that there is nothing new for us; when our faith is not growing or going; when our relationship with God is static; when to every new idea, every new possibility, and every new dream we cavalierly toss aside, "Been there, done that, got the T-shirt" – then we are in serious danger.