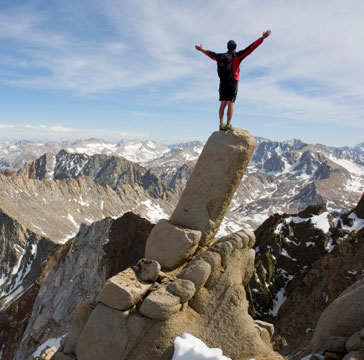 Thirty-three year-old truck driver Larry Walters was one day sitting in a lawn chair in his backyard wishing he could fly. For as long as he could remember he had wanted to fly but never had the time nor money nor opportunity to be a pilot. So he spent a lot of summer afternoons sitting in his backyard in his ordinary old aluminum lawn chair. He came up with what he thought was a good idea. He hooked 45 helium-filled surplus weather balloons to his chair, put a CB radio in his lap, tied a paper bag full of peanut butter and jelly sandwiches to his leg, and slung a BB gun over his shoulder to pop the balloons when he wanted to come down.
He expected his lawn chair to lift off and climb a couple of hundred feet over his neighborhood. But instead he shot up 11,000 feet right through the approach corridor to the Los Angeles International Airport. When the police finally rescued him with a helicopter, and asked why he did it, Larry answered: "Well, I wanted to see what it looked like from up there." When asked what it looked liked he said, "Awesome, man!"
I don't know if I would feel close to God in a lawn chair at 11,000 feet but I do enjoy a good mountaintop experience. When you are on a mountaintop, you see how big the world is that God made and it makes you feels smaller. In the Bible, some important events took place on mountains. God provided a ram for Abraham on Mt. Moriah. He delivered the Ten Commandments to Moses on a Mt. Sinai. Elijah held his famous God-contest on Mt. Carmel. Jesus was transfigured on a mountaintop while three of His disciples looked on in amazement.
Maybe you've had some mountaintop experiences—at a retreat or camp or conference—and you saw the glory of the Lord in a new way. Mountaintop experiences are wonderful, but just like Jesus and His disciples, we have to leave the mountain to go down in the valley. Luke tells about the valley in 9:37-45.
The next day, when they came down from the mountain, a large crowd met him. A man in the crowd called out, "Teacher, I beg you to look at my son, for he is my only child. A spirit seizes him and he suddenly screams; it throws him into convulsions so that he foams at the mouth. It scarcely ever leaves him and is destroying him. I begged your disciples to drive it out, but they could not."
"O unbelieving and perverse generation," Jesus replied, "how long shall I stay with you and put up with you? Bring your son here."
Even while the boy was coming, the demon threw him to the ground in a convulsion. But Jesus rebuked the evil spirit, healed the boy and gave him back to his father. And they were all amazed at the greatness of God. While everyone was marveling at all that Jesus did, he said to his disciples, "Listen carefully to what I am about to tell you: The Son of Man is going to be betrayed into the hands of men." But they did not understand what this meant. It was hidden from them, so that they did not grasp it, and they were afraid to ask him about it.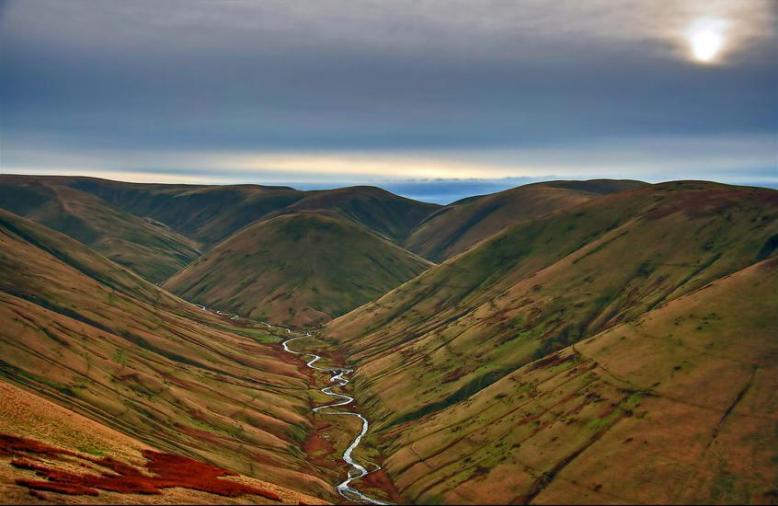 On the mountaintop is a brilliant Savior, glowing with the glory of God. In the valley there are messed up people who cry out for help. On the mountaintop is holy worship. Down in the valley there is hard work. On the mountain we find strength and serenity. In the valley we find frustration and failure. On the mountaintop is delight. In the valley, there are demons, disease and even death.
Don't be afraid. For as David wrote, "Even though I walk through the valley of the shadow of death, I will fear no evil for you are with me." (Psalm 23:4)
I always want to be on the mountain experiencing the glory of God in worship. But I also want to be in the valley reaching out to hurting people.
Where do you find yourself today, on the mountain or in the valley?
See also, Worship Is Not Just for Sundays .