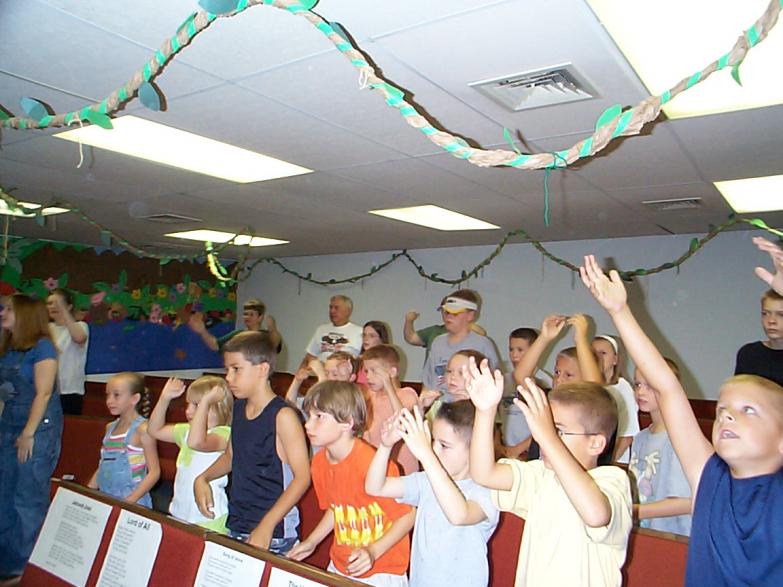 We are having Vacation Bible School this week. I love kids. They are so real. Have you ever noticed that little kids are very transparent? They don't usually hide their feelings. If they are happy their face is beaming and they are bouncing around. When they are sad they frown, pout, or hide away. It's only as we get older that we learn to mask who we are and how we feel.
A man was asked by a pastor to come to church for 4 Sundays, He was a skeptic but the pastor thought if he would come, maybe he would be convinced to accept Christ. At the end of the fourth Sunday, the man approached the pastor and said, "I have given my life to Jesus Christ."
The pastor was pleased and said, "Tell me about it."
The man looked at the pastor and said, ""Well, Pastor it wasn't your preaching." The man paused for a moment. He went an, "On the third Sunday morning, I saw an elderly lady fall down on the icy parking lot. I stopped to help her and I saw the radiance on her face, even in the midst of such difficulty. So I asked her what gave her life such a radiant glow and she said simply, 'If you knew my Lord Jesus Christ and felt his love in your life, you would have the same look of radiance on your face.'"
"I became a Christian," the man said, "because of the glow on that woman's face was like a light shining into the darkness of my soul."
When's the last time someone noticed Christ in my face?
"And we, who with unveiled faces all reflect the Lord's glory, are being transformed into his likeness with ever-increasing glory, which comes from the Lord, who is the Spirit."

(2 Cor 3:18 NIV)
The glory, the light, the radiance of Christ is still with us as we allow His Spirit to transform us into His likeness. As that glory, that radiance, transforms our lives, we become joyful, we want to sing praises to God for His act of deliverance, His transformation in our lives.
"For God, who said, 'Let light shine out of darkness,' made his light shine in our hearts to give us the light of the knowledge of the glory of God in the face of Christ." (2 Cor 4:6 NIV)
There is a radiance, a beauty, a glory, about Christ which fills our lives with peace and contentment no matter what the circumstances. That glory gives to our lives the quiet and radiant peace which allows us to have the strength and the courage to handle all the brokenness of life.
Oh, how I want my life to be a reflection of His glory!