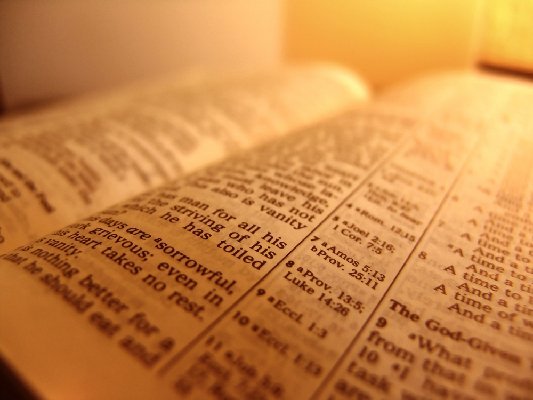 I believe the Bible is the inspired word of God. It is the authority for faith and practice in the Christian life. Now you might say—"Okay Richard, I agree that the Bible has been important to Christians, but why should I believe it is more divinely inspired than any other book?" Good question!
Here are some reasons I believe the Bible is the very word of God:
The Bible claims to be inspired by God

. "All scripture is inspired by God (God breathed)" 2 Timothy 3:16. The men who wrote the Bible "spoke as they were moved by the Holy Spirit." 2 Peter 1:20-21.

The fulfillment of prophecy

. The words, "That it might be fulfilled which was spoken through the prophets . . ." resounds throughout the Gospel accounts.

Hundreds of years before Christ the prophets predicted the manner and place of Jesus' birth, the content of his ministry, his crucifixion, resurrection and ascension.

No amount of mere human insight or perception can explain this—it is explained only by the fact that the Bible is inspired by God.

The Unity of the Bible

. "The Bible was written over a period of about 1500 years in places stretching all the way from Babylon to Africa to Rome.

It was recorded by a variety of at least 40 different men—kings, peasants, poets, herdsmen, fishermen, scientists, farmers, priests, prophets, pastors, tentmakers, and governors." (Hershal Hobbs).
W.A. Criswell said, "Just think of this: There was never any order given to any man to plan the Bible. Little by little, part by part, century after century it came out in disconnected fragments and unrelated portions written by various men without any intention of a concerted arrangement. The Bible was written in three different languages, Hebrew, Aramaic, and Greek. In the Bible we find all kinds of poetry, prose, letters, proverbs, parables, allegories and orations."
What would you expect to find from such a mismatch of people, places and personalities? We would expect to find whole areas of discord and all of it utterly lacking in unity. Yet we find the exact opposite. There is the most heavenly and marvelous unity of any book on earth. Every part of the Bible adds to and supports every other part. There is an ever-increasing, ever-growing, ever-developing theme in the Bible. It contains one system of doctrine, one system of ethics, one plan of salvation and one rule of faith.
The Message of the Bible

. The message of the Bible is like no other book.

You can exhaust the meaning and content of other books, but not the Bible.

It is life changing. It feeds my soul every day. It reveals the creator, sustainer, and redeemer of all. It's words have literally transformed my life.
What do you believe about the Bible? Why?
To learn more about reading your Bible read Sword Training.