Christianity is a person. God gave all his power and authority and everything in between to his Son. Christianity is ONLY Christ Jesus. Jesus said, "If you knew me, you would know my Father."
His statement really resonated with me and what God has been teaching me lately. I commented on his post by saying,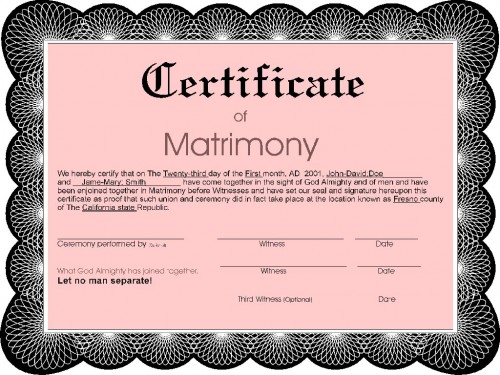 I was
preaching Sunday
from 1 John 5:11-12. "And this is the testimony: God has given us eternal life, and this life is in his Son. He who has the Son has life; he who does not have the Son of God does not have life."
Here is one way I explained it: Kathy and I were married over 25 years ago in Colorado Springs. On that day I forgot to bring something very important to the ceremony, the marriage license. So we did not get it signed 'til the next day. Even though we had take the vows and wore each other's rings Kathy's dad almost didn't let me take her with me. Thank God it all worked out okay.
Somewhere in our records we have a copy of that Marriage certificate, although I have not able to find it for the last few years (is there a trend here?). But we have more proof than a piece of paper that we are married, that proof is found in our relationship. Many Christians doubt their salvation because all they have is a record. "I was baptized on this day;" or "I joined the church on this day." But they don't have a close personal relationship with Jesus that they live out every day. So they have no assurance.
I know for sure that I am married because I have a record at the El Paso County courthouse. However, if the only thing your marriage consists of is a certificate, you have a pretty miserable marriage.
The relationship gives life to the record. "He who has the Son has life."
Is it more than just a record?