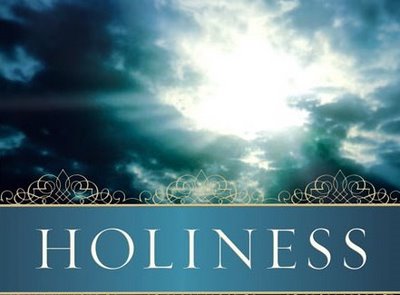 Psalm 119:25-32
Last week I began to write about
personal revival
from Psalm 119:25-32. Many Christians would love to see a true revival in our nation and world. I would too. But revival begins with the individual. Personal spiritual revival must precede any corporate revival. As we saw in Psalm 119:25, the real prayer we need to pray is, "Revive me!"
Today we see the fourth indication of personal revival:
4. Dedication to Holiness: Obeying God's Truth (119:30-32)
Lasting revival is not marked by numbers or emotions or feelings in the moment of a special church meeting, but by changed lives that now pursue obedience to Scripture and are dedicated to holiness, being set apart, sanctified by grace, different.
Verse 30 says "I have chosen the way of truth;" - way is a key word in this part of Psalm 119. It stands for the path and pattern of life: "my ways" (v. 26), "the way of Your precepts" (v. 27), "the way of lying" (v. 29), "the way of truth" (v. 30), "the way of Your commandments" (v. 32).
If we are going to choose to live the way of truth, we need to daily put God's truth before us: "Your judgments I have laid before me," (v. 30b). We must read God's word. And not only read it; v. 31 goes beyond reading to clinging to Scripture, "I cling to Your testimonies."
What a change from the beginning of this passage when he said his "soul clings to the dust," (v. 25). The presence and power of God has revived him and now instead of clinging to the dust of this world he is clinging to the Divine Word of God. The Bible is his story and he's sticking to it.
Verse 32 moves from walking in God's ways to running in them. The psalmist began this prayer being down and out, now he's up and running. He is determined to run the course … "I shall run" … His determination, however, is dependent on God's strength: "For You shall enlarge my heart. "
The movement of personal revival in Psalm 119:25-32 is from death to life
:
v. 25 laying in the dust, praying for life by the Word
v. 28 he prays, "raise me up by the Word"
v. 30 I have chosen the way of the Word – now he's walking
v. 32 Now he's running the way of God's Word, with a full heart pumping with life
When my heart is set free from the cramping constraint of sin, trouble, and anxiety, then I am set free to run the course of God's commandments. "The feet will follow the heart." The key to personal revival is the person of Jesus Christ. It is His Holy Spirit enlarging our heart.
"Revival is ultimately Christ Himself, seen, felt, heard, living, active, moving in and through His body on earth." - Stephen Olford
Have I allowed God to graciously enlarge my heart?