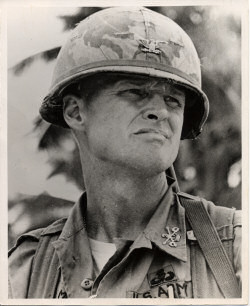 "Have I not commanded you? Be strong and of good courage; do not be afraid, nor be dismayed, for the LORD your God is with you wherever you go." (Josh 1:9 NKJV).
Courage is not the absence of fear. It takes no courage to face that which you are not afraid of. Courage is moving ahead despite your fears. I like what John Wayne said about courage: "Courage is being scared to death and saddling up anyway."
It is not enough simply to know the word of God....or to sense his presence, we must put into action what he tells us to do. Joshua has to begin that process. He takes action....he begins the task of moving forward, knowing that God is with him and will keep His promises.
The movie, We Were Soldiers, tells of true story of an army commander in Vietnam, Lt. Col. Hal Moore. He leads his troops into the first major engagement of US Troops against the Vietnamese Communists army. It turns out to be one of the bloodiest battles of the war. Col. Moore is a Christian, a great leader, and an American hero (recently he was honored at West Point for his service to America).
At the beginning of the movie Moore gives a stirring speech to his troops, promising his absolute commitment to them and his dedication to sacrificial leadership. With sternness he says:
Let us understand the situation. We are going into battle against a tough and determined enemy. I can't promise you that I'll bring you all home alive. But this I swear before you and before Almighty God: that when we go into battle I will be the first to set foot on the field and the last to step off. And I will leave no one behind. Dead or alive, we will all come home together, so help me God.
Not long after that speech Moore is on the battlefield, Army headquarters realizes they've made a mistake by attacking an enemy that's far too strong for them (they were outnumbered at least four to one). As intensifying enemy fire eliminated their air support, the officers back at the base decide to send in one last helicopter to evacuate Col. Moore so he can report to them directly what is happening, leaving his men behind to be overrun by the enemy.
When headquarters radios the orders for Moore to take this last helicopter back from the front line, he is outraged. He grabs the radio and barks into it, "I am in a fight! I object to this order! I will not leave my men!" and then he slams down the radio and returns to the battle.
Moore
ends the firefight by taking his remaining men on a daring charge deeper into enemy territory. This turns the tide of the battle and leads to a dramatic victory.
What a great picture of courage! Hal Moore was committed to stand with his men no matter what. Hebrews 2:10 calls Jesus the captain of our salvation. He has done everything that is needed to give us the victory in the spiritual battle. And He has promised never to leave us. Joshua had that same promise from God and he was determined to move forward.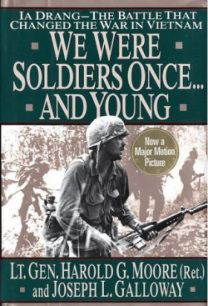 How about us? We've heard the word of God...we have sensed His presence, and His leading...but are we still just sitting? What are we waiting for? "Finally, my brethren, be strong in the Lord and in the power of His might." (Eph 6:10 NKJV).
Let's get going. There is ground to cover, battles to be won, a mission that is still unfinished.....let's "be strong and courageous" and move forward!