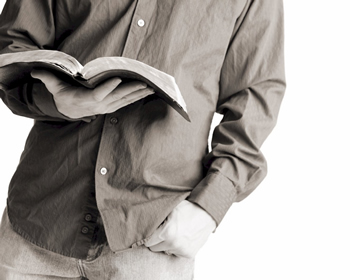 I have been studying Psalm 119 over the last few days. The BIG IDEA in this psalm is that God blesses us when we are devoted to Him and His word. At the end of the first section in verse 8, the psalmist makes the bold promise, "I will keep your statutes."
Next he asks the obvious question, "How can I do that?"
In verse 9 he asks, "How can a young man cleanse his way?" He wants to know: How can I live a more holy life? How can I sin less and have victory more? How can I live to glorify God? How can I keep my ways pure?
Good question. But why is the answer to that question important for us?
Because: Only a pure life is a life that pleases God. Jesus said, "Blessed are the pure in heart, For they shall see God." (Matt. 5:8). 1 Peter 1:15-16 says, "but as He who called you is holy, you also be holy in all your conduct, because it is written, 'Be holy, for I am holy.'" Purity and holiness are essential. So he asks, "How do I get there?"
The answer? How can I keep my ways pure? "By taking heed according to Your word." (Psalm 119:9).
The "cleansing" is through God's Word. The Scripture is purifying in its effect.

We must depend on God's word, on His promises, on the gospel of what He has accomplished through Jesus Christ. See, it is not our promise to the Lord, but His promises to us that will give us victory over sin. It is only by His grace in us through Jesus Christ that we can have this victory. And the way that Jesus works in us is through His word, His promises in the Bible. We must live according to God's word.
It is the Gospel message from the word of God that truly cleanses
.

Paul says, "Therefore, having these promises, beloved, let us cleanse ourselves from all filthiness of the flesh and spirit, perfecting holiness in the fear of God." (2 Cor 7:1 NKJV)

John agrees: "And everyone who has this hope in Him purifies himself, just as He is pure." (1 John 3:3). Peter sums it up, "Since you have purified your souls in obeying the truth through the Spirit in sincere love of the brethren, love one another fervently with a pure heart, having been born again, not of corruptible seed but incorruptible, through the word of God which lives and abides forever," (1 Pet. 1:22-23).
So it is Jesus who purifies, cleanses us from sin. But how do we continue in that cleansing? How do we keep from sin? How do we live according to this gospel?
In the next few verses the psalmist shows us what it looks like to "take heed" or "live according to" His word.
To Live According to God's Word Means
:
A. I seek the Lord with my whole heart. (119:10)
If our whole heart is seeking God our feet will not stray from God.
10

With my whole heart I have sought You; Oh, let me not wander from Your commandments!
B. I hide God's word in my heart (119:11)
What would happen if you treasured His Word above everything else?
11

Your word I have hidden in my heart, That I might not sin against You!
C. I praise the Lord with His word (119:12).
When God's Word is hidden in your heart praises come out of your mouth.
12

Blessed are You, O LORD! Teach me Your statutes!
D. I declare God's word (119:13).
Speak the Word of God. Speak it to yourself, and declare it to others.
13

With my lips I have declared All the judgments of Your mouth.
E. I rejoice in following God's word (119:14).
Following God's word is not a drudgery it is a joy!
14

I have rejoiced in the way of Your testimonies, As much as in all riches.
F. I mediate on God's word (119:15).
Make it a part of you.
15

I will meditate on Your precepts, And contemplate Your ways.
G. I delight in God's word (119:16).
When was the last time you had an old fashioned, Holy Spirit, joy-filled time in God's Word?
16

I will delight myself in Your statutes; I will not forget Your word.
As disciples of Jesus who are in the world, we are daily exposed to "the pollutions of the world." So daily we need cleansing.

We need deep and regular washings.

God has provided a detergent in His Word.

It will make us "whiter than any fuller can whiten".

But it, like other soaps, will do us no good unless applied to the stain.

Are we willing to rub the His word into the grimy parts of our lives?

If we do--under the blessing of God--they'll come clean.
Will I take the steps necessary to cleanse my way with God's word?