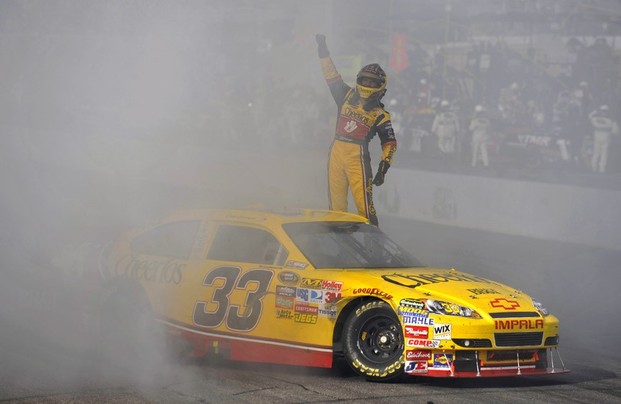 I was watching the NASCAR race last Sunday at New Hampshire (No, unfortunately I wasn't at the race. I watched it from my living room). Tony Stewart was leading the race with one lap to go when his car ran out of gas. Rather than win the race he finished 24th. The guy who won the race, Clint Bowyer, later had problems of his own. Even though he won the race on Sunday, the car failed a post race inspection so on Wednesday, the team was docked 150 points and fined $150,000. The crew chief was suspended for 6 races. Instead of being launched forward toward the championship the team is now in last place, 185 points behind the leader.
Both these teams raced hard. Neither finished well. In Psalm 119 the psalmist prays in verse 33, "Teach me, O LORD, the way of Your statutes, And I shall keep it to the end." His prayer and desire is that he would keep God's statutes to the end; all the way; that he would end well.
You know, the Christian life is not a sprint, it's a marathon. Having been a Christian now for 28 years, coming to the Lord as a college sophomore, I have now lived longer as a believer than as an unbeliever. Sometimes I have done well as a Christian, but not always. But the older I get, the more I think about how I am finishing. I want to end well.
One of the hardest and most difficult challenges in life is to stay consistent. It seems like all of life is designed to force us onto a rollercoaster. On that roller coaster, we are always challenged with decisions and struggles which are perfectly and intentionally focused on "derailing" us. How many people do we know who have failed to finish well?
Psalm 119 has much help for us. This is a psalm all about God's Word, with each verse referring to the Bible by one of many synonyms or titles (commandments, statutes, precepts, ways, ordinances, law, etc.). This is a psalm of loving and longing God and His word.
How did this writer have such a delight and longing for Scripture? How did he maintain this over a lifetime of trouble and pain? How did he finish well? How can we?
The person that would end well prays:
Teach me, O LORD, the way of Your statutes, And I shall keep it to the end.
This prayer is the theme of the entire psalm. God Himself must be our teacher and His Word must be our textbook.
Kneel down in your private room and with sincere humility and earnestness pray to God, through His dear Son, graciously to grant you His Holy Spirit to enlighten and guide you and give you understanding.
2. Make Me

Able

. (Psalm 119:35-37)
True faith and prayer mobilizes action. We trust and obey. It's not enough to be readers of the Word, or as James says, hearers of the Word only, we must be doers of the Word. Praying is essential and recognizes God's sovereignty, but our responsibility is equally balanced in this passage.
This prayer is for obeying or heeding God's Word with the whole person. I say "the whole person" because verses 34-37 unfold that way:
MIND - 34 Give me understanding
FEET - 35 Make me walk in the path
HEART - 36 Incline my heart to Your testimonies
EYES - 37 Turn away my eyes from looking at vanity
3.

Revive

My Life (Psalm 119:37b-40)
"Behold, I long for Your precepts; Revive me in Your righteousness," (Ps. 119:40).
v. 33-34 RENEW MY MIND
v. 35 REDIRECT MY STEPS
v. 36 REINVIGORATE MY HEART
v. 37 REFOCUS MY EYES
rest of text REVIVE MY LIFE
Revived hearts do not see Bible reading as a bore or something they have to do. It's a gracious gift they long for and get to read. Look at his longing in verse 29 "graciously grant me thy law"
Is this how we think of God's law, as a gracious gift given by our Loving Father?
"Teach me Your ways, make me able to follow them, revive my life so that my great longing is for You, Oh Lord." This is the prayer of the one who would finish well.
Are you running the race to finish well?