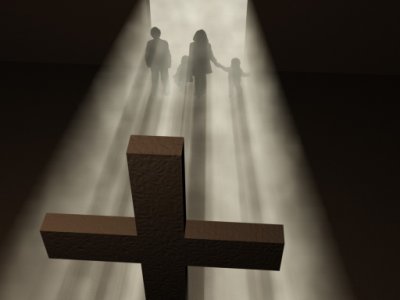 Why Do Some People Not Believe?
A fifth reason why some did not believe is:
Part 5: The Scandalous Nature of the Cross.
(John 6:49-58).
There is an awesome power about the cross of Christ. It is at the cross that sinners are convicted; the arrogant are humbled; the hardened are broken, the skeptics convinced, the weak strengthened and the repentant forgiven. Max Lucado in his book No Wonder They Call Him Savior, says of the cross:
The cross rests on the time line of history like a compelling diamond. Its tragedy summons all sufferers. Its absurdity attracts all cynics. It's hope lures all searchers… My, what a piece of wood! History has idolized it and despised it; gold plated it and burned it; worn it and trashed it. History has done everything to it but ignore it. That's the one option that the cross does not offer. No one can ignore it! You can't ignore a piece of lumber that suspends the greatest claim in history. A crucified carpenter claiming that he is God on earth.
Paul wrote about the impact of the cross in 1 Cor 1:18 where he said, "The message of the cross is foolishness to those who are perishing, but to us who are being saved, it IS the power of God…"
In John 6 Jesus takes the idea of the bread that comes down from heaven and uses it to describe what He is soon to do on the cross. That is, He's about to give up his life in order to bring life to others. All through this passage Jesus tells us how to receive eternal life. He repeats himself over and over again. In 6:29 he says: "This is the work of God, that you believe in Him whom He sent." And in 6:35, "I am the bread of life. He who comes to Me shall never hunger, and he who believes in Me shall never thirst." In 6:40: "And this is the will of Him who sent Me, that everyone who sees the Son and believes in Him may have everlasting life; and I will raise him up at the last day." And then in 6:47 "Most assuredly, I say to you, he who believes in Me has everlasting life."
What do all those verses have in common? Believe, believe, believe. The way to eternal life is to believe in Jesus.
So now we get to 6:51 and Jesus starts talking about us eating His flesh. He says, "I am the living bread which came down from heaven. If anyone eats of this bread, he will live forever; and the bread that I shall give is My flesh, which I shall give for the life of the world." If the way to eternal life is to believe in Jesus, and He now says, "If anyone eats of this bread, he will live forever; and the bread that I shall give is My flesh, " it's fairly clear that eating His flesh has to do with believing in what He will do with his flesh: that is, His death on the cross; His flesh given for the life of the world.
His hearers take offence at this language. In 6:52, The Jews therefore quarreled among themselves, saying, "How can this Man give us His flesh to eat?" The thought of eating His flesh is enough to turn them off completely. But Jesus takes the metaphor even further: He says that his flesh and blood are real food and real drink (6:55). They're such that if you partake of them you'll partake of Christ Himself (6:.56). To eat of this food is to partake in the life that the Father gives to the Son (6:57).
Even Jesus' disciples begin to complain what a hard saying this is (6:60,61). So Jesus responds, in 6:62: "What then if you should see the Son of Man ascend where He was before? " There would come a time when an even more amazing thing would happen. Not only would Jesus be killed on a cross, but He'd rise from death and ascend again to the Father in heaven. Then their faith would really be tested and even having seen all that, there would still be some who wouldn't believe.
Is the cross of Jesus your salvation or your stumbling block?