Why Do Some People Not Believe?
Today's post is fourth in a series from John 6 on why some people believe and others do not. Read Do You Believe the Impossible? to set the stage for today's topic. The first reason why some do not believe was The Spiritual Nature of Jesus' Mission. The second was The Gracious Nature of Jesus' Offer. The third was The Demands on Jesus for a Sign.
Part 4: The Supernatural Nature of Jesus' Claims.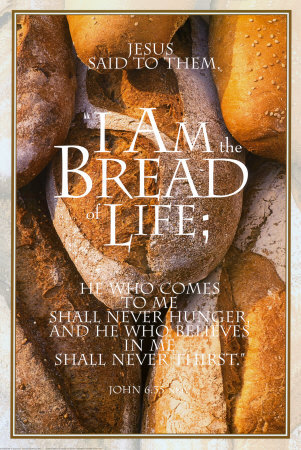 In the gospel accounts Jesus makes some astounding claims. In John 5 there is a long discourse between Jesus and the religious leaders in which Jesus claims over and over to have come from God, indeed to be the Son of God. And again, in John 6, he is claiming a uniquely divine origin.
It's the sort of thing you expect to hear in a mental hospital: from people who have lost touch with reality. In the space of a mere 7 verses, from 34 to 40, Jesus uses the words 'I' or 'me' or 'my' 17 times. His claim is for a divine origin: "I have come down from heaven;" a divine mission: "I have come to do the will of him who sent me;" and, a few verses earlier, a divine ministry: "I am the bread of life. Whoever comes to me will never be hungry, and whoever believes in me will never be thirsty." (John 6:35).
Yet, Jesus' claims, as amazing as they are, are tempered by an equally amazing modesty. He isn't on about his own agenda. No, he's come to do the will of his Father in heaven. "For I have come down from heaven, not to do My own will, but the will of Him who sent Me. This is the will of the Father who sent Me, that of all He has given Me I should lose nothing, but should raise it up at the last day." (John 6:38-39). Jesus has come to satisfy the most important need of human beings: the need to fill the spiritual void caused by sin.
Do you know that hunger? It's a profound hunger that only God can satisfy. It's a hunger that Jesus says he has come to satisfy, as both the giver and the gift. "For the bread of God is he who comes down from heaven and gives life to the world. . . . I am the bread of life." (John 6:33-35)
But, if you'll pardon the pun, they just couldn't swallow that. After all, they thought they knew Jesus. They'd seen him grow up. They'd bought furniture from his father. They'd eaten with his family. How could he claim to have come down from heaven? That's ridiculous! He may have a strange ability to heal people, even to produce food in unexplainable ways, he might be able to do amazing miracles, but it's another thing to claim to be a miracle. That's a bit unbelievable wouldn't you say? Yet that is his claim.
Of course it's still his claim today and it's still an obstacle to faith for many today. You see, we're so intent on understanding our world, of being able to judge for ourselves what's true and what isn't that we find it hard to accept someone who claims to come from heaven and to be so beyond our field of measurement.
Jesus made greater claims for himself than any major religious figure, before or since. In the biblical accounts of Jesus we clearly see Jesus as supernatural by all the miracles he did. And we clearly see Jesus making claims to be the Son of God, to be sent from heaven, to be the only way to God, to have come back from the dead, and to be equal with God.
You owe it to yourself to consider them with as objective and sincere a mindset as you can. I can testify that if you do you will not be disappointed. I have found Jesus to be the loving and just Savior and Lord that he claims to be. He also claims he will be our eternal judge concerning eternal punishment or eternal life. "And this is the will of Him who sent Me, that everyone who sees the Son and believes in Him may have everlasting life; and I will raise him up at the last day." (John 6:40).
The only way to discount these claims is to discredit the biblical accounts. Of course that is what many try to do. If I can call into question the accuracy of the biblical record then I don't really have to deal with the supernatural claims of Jesus. And if Jesus is not who he claims to be in the Bible, then I don't have to deal with his claims on my life either.
What does it mean for you to take the supernatural claims of Jesus seriously?