(This post is second in a series called SIMPLIFY. Some of the ideas I'm sharing in this series came from a message called "Packing Light for the Journey of Life" by Pastor David Dykes in Texas.).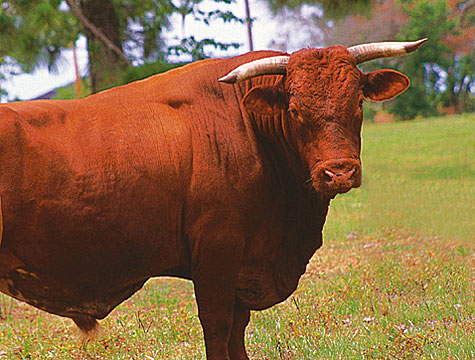 Today's post starts with a BULL story: A government surveyor asked a farmer for permission to go into one of his fields and take some readings. The farmer objected, fearing that the survey would ultimately result in some highway being built through his land. "I will not give you permission to go into my fields," said the farmer.
The surveyor produced an official government document which authorized him to do the survey. "I have the AUTHORITY," he declared, "to enter any field in the entire country to take the necessary readings."
The farmer shrugged, open the gate, and allowed the surveyor to enter the field. He then promptly marched to the far end of the field, and opened another gate-- which allowed his fiercest bull to charge forward into the field!
Seeing the bull, the surveyor dropped his equipment and began to run for his life. He could hear the farmer shouting after him, "SHOW HIM YOUR PAPERS! SHOW HIM YOUR PAPERS!"
A Simple Authority for Our Mission
The question of authority is an important one. Why do we do what we do as Christians and as churches? To whom do we look for authority and direction? I am afraid that many Christians and many churches today are looking in all the wrong places. Our Christian world today is overflowing with models of ministry, experts of ecclesiology, and gurus for growing churches. And of course not all these models and "experts" are bad or wrong. Most of them are doing good things in their cultural context for the Kingdom of God. That is why they are viewed as authorities on the subject.
But my point is that too many of us take these as our authorities and our models rather than simply looking to the Lord Jesus Christ as our authority for our mission. In Luke 9 Jesus calls His disciples together and gives them some simple instructions as He sends them out to do ministry.
"Then He called His twelve disciples together and gave them power and authority over all demons, and to cure diseases. He sent them to preach the kingdom of God and to heal the sick." (Luke 9:1-2).
Jesus sends them out with "power and authority." Jesus Christ himself is our authority and power for our mission. In Matthew 28 Jesus says, "All authority has been given to Me in heaven and on earth. Go therefore and make disciples of all the nations, baptizing them in the name of the Father and of the Son and of the Holy Spirit, teaching them to observe all things that I have commanded you; and lo, I am with you always, even to the end of the age."
Jesus claimed to have all authority in heaven and on earth. This was the basis for sending His believers out on mission. There is only one reason, one authority, for our mission: Jesus Christ. We are not here on our own agenda or for our own purposes. We are to be about His mission and His purpose.
I am not to look to any other person as my authority. Our authority is not Rick Warren nor Bill Hybels, not John Piper nor Mark Driscoll, not the Southern Baptist Convention nor the Roman Catholic Church. Jesus Christ is the authority. He is the reason, the purpose, the motivation, the power, the right.
I am privileged to live in a country where we enjoy a measure of religious freedom. But our authority for our ministry and our mission does not come from the Constitution of the United States. If there were no first amendment I would still openly preach the gospel of Jesus Christ. My authority comes from Jesus Christ, the Son of God. It is the same power and authority that all believers enjoy, no matter what earthly governments under which they live.
When we get the question of authority settled, then we are ready for the instructions of our Lord about a simple approach to ministry. That will be the topic for my next post.
Have you seen Christians and Churches too preoccupied with lesser authorities?