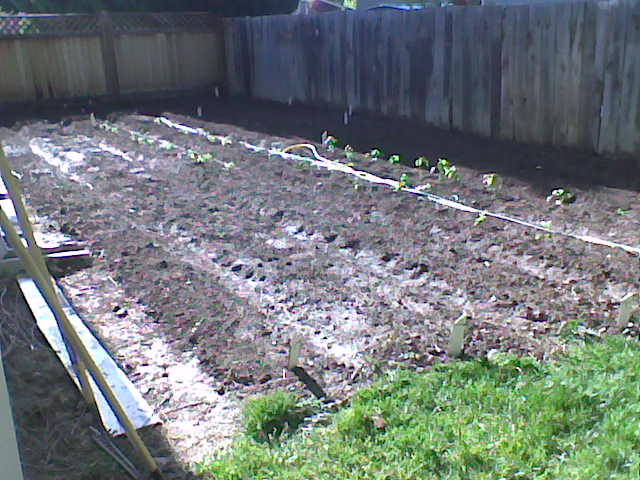 Gardening. I am trying my hand at vegetable gardening this year. Although I grew up on a small farm where we grew vegetables for our family and also sold some, as an adult I have not grown much of anything. The last time I tried to grow a vegetable garden we lived in an old farm house outside of Gardner, Kansas. That was 16 years ago. That garden produced very little results. What the rabbits didn't eat, the deer took care of. I cried, dreaming of all the veggies I was missing.
Now we live back in Colorado. Although our home here is in a residential subdivision it has a great garden spot on the south side of the house. It's all fenced in and we now have a dog that should keep most of the critters away from our produce.
So far I have put into the garden a lot of hard work and about $40 worth of seeds and plants. My shovel and I spent several afternoons turning the soil over by hand, digging down about eight inches and breaking up the packed dirt. Then a wonderful member of my church brought his rototiller over and finished the job for me—thank you Dave!
A little over two weeks ago I planted the seeds and set out the tomato and pepper plants. Been watering and checking it daily. A few days ago I began to see signs of life. The corn is coming up along with the lettuce and radishes. Praise the Lord!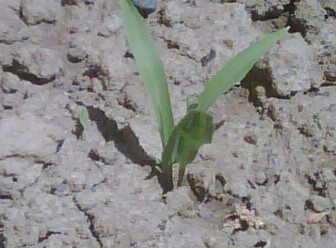 I really am thankful to God for making it grow. I know I can't make it grow. I can plant seeds, water them and watch—but God makes it grow.
It's the same way in our walk with Jesus and His work in the church. In the Bible Paul says, "So then neither he who plants is anything, nor he who waters, but God who gives the increase.

Now he who plants and he who waters are one, and each one will receive his own reward according to his own labor.

For we are God's fellow workers; you are God's field." (1 Cor. 3:7-9).
As God's fellow worker He can use me to plant the seeds of the good news and water that truth with love, but only God can save a soul. Only God can change a life. Only God can grow a church. And when He does, I have another reason to say, "Praise the Lord!"
Stay tuned. Each week I plan to give an update on how the garden is coming along (pictures and all). And maybe we will learn something about following Jesus as well.
How have your gardening experiences been?
How about your gospel sowing?