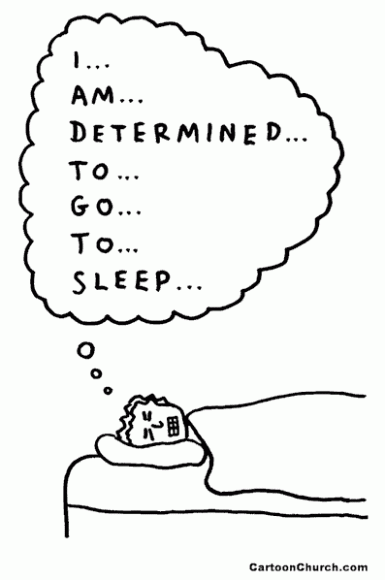 I don't sleep as soundly or as long as I used to. I am not really sure why. Maybe it's just another one of those annoying things that happen as we grow older—like the hair that grows everywhere except the top of my head; or the furrows in my forehead that appear to have been pulled by a deep eight-bottom plow; or my inability to tolerate loud music anymore.
So when I wake up now—at midnight, at two, at four—and toss and turn for a while before finally drifting back to sleep, what do I do in those times? Here I learn another lesson from Psalm 119.
God is My Greatest

Joy

(Psalm 119:62-64)
62
At midnight I will rise to give thanks to You, Because of Your righteous judgments.
63
I am a companion of all who fear You, And of those who keep Your precepts.
64
The earth, O LORD, is full of Your mercy; Teach me Your statutes.
When something is greatly on my mind, I sometimes think of it when I wake up in the middle of the night. This week I have a funeral to preach on Saturday. Last night I found myself thinking about the man who had passed, his family, and what words I should bring to them.
Where does your mind go when you awake at night? For the writer of this psalm, his mind was so greatly fixed on God and His word, his heart was so full with gratefulness and thankfulness, that he just naturally prays and praises God in such times. He says, "I will rise." Apparently he even makes plans to get up to praise at midnight!
Wow! Talk about a grateful heart! He rose up at midnight to talk to his merciful Father in Heaven—to tell the Lord how much he loved Him; how much he appreciated Him; how grateful he was for God's love and for His leading his life. He talked over his day with the Lord, talked with Him about his burdens and friends.
As he reviews the previous day and the circumstances of his life, he sees God active there. Everywhere he looks he sees the signs of God's commitment in mercy. "The earth, O LORD, is full of Your mercy." He was seeing that which only redeemed eyes could see. Proofs of God's goodness are everywhere. They are great to think about, and thank God for in those still, dark hours in the middle of the night.
Thou art my portion, Lord; Thy words I ever heed;
With all my heart, Thy grace I seek, Thy promises I plead.
I thought upon my ways, Thy testimonies learned;
With earnest haste, and waiting not,
To Thy commands I turned.
While snares beset my path, Thy law I keep in view;
At midnight I will give Thee praise For all Thy judgments true.
All those who fear Thy Name Shall my companions be;
Thy mercy fills the earth, O Lord; Thy statutes teach Thou me.
How do you spend those sleepless nights?