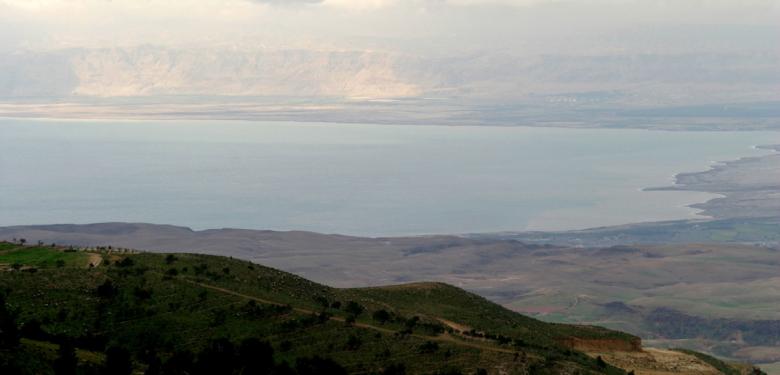 "Jesus … He is all we need and all we want. We are shipwrecked on God and stranded on omnipotence!" — Vance Havner
Psalm 119:57-64 is really a prayer to the all sufficient God. The writer of Psalm 119 has already said that he loves God's Word, longs for the Word, aches for a deeper desire, and he desperately prays for more eye-opening, treasure-discovering, soul-satisfying delight in the Word of God, and ultimately in the God of the Word.
What has the psalmist experienced from God and His word that has satisfied him completely? He has experienced that:
1. God Is Our

Portion

(Psalm 119:57-58).
In verse 57, when he writes "The LORD is my portion," he not only means he is content with what God has provided, he says it is in God Himself that he finds all contentment and satisfaction.
The word, "portion" is an important word. Originally, portion referred to that part of the Promised Land that was given to each Israelite tribe. This portion was their inheritance. It was passed from generation to generation. The inherited land actually belonged to the Lord (Lev. 25:23) and He cared for it (Deut. 11:8-17).
The priests and Levites were given no inheritance or portion of the land. There was a good reason for that. See if you can spot the reason why the tribe of Levi had no portion or inheritance of land:
Deut. 10:8,9 – "At that time the LORD separated the tribe of Levi to bear the ark of the covenant of the LORD, to stand before the LORD to minister to Him and to bless in His name, to this day. Therefore Levi has no portion nor inheritance with his brethren; the LORD is his inheritance, just as the LORD your God promised him.)"
I'm sure you caught it. Instead of land, the Lord himself was to be their portion and their inheritance. Portion refers to something that someone lays claim to. The Psalmist is thrilled to call the Lord his own. Think of it! To be able to lay claim to the Creator of the universe as my own, that is something! This meant that the Levites (priests) were to look directly to God for present sustenance and future security. Having the Lord as my portion is not only greater than the best this life can offer, it is far greater. It is not only of superior value, but of surpassing value, matchless worth. To possess a relationship with God is truly to have everything.
As believers in Jesus Christ today we have a rich spiritual inheritance because we are in the Lord. If we have Jesus, we have everything. See if these scriptures don't just WOW you:
In Him also we have obtained an inheritance, being predestined according to the purpose of Him who works all things according to the counsel of His will
,

(Eph 1:11 NKJV)
…giving thanks to the Father who has qualified us to be partakers of the inheritance of the saints in the light
.

(Col 1:12 NKJV)
And whatever you do, do it heartily, as to the Lord and not to men, knowing that from the Lord you will receive the reward of the inheritance; for you serve the Lord Christ
.

(Col 3:23,24 NKJV)
And for this reason He is the Mediator of the new covenant, by means of death, for the redemption of the transgressions under the first covenant, that those who are called may receive the promise of the eternal inheritance
.

(Heb 9:15 NKJV)
Blessed be the God and Father of our Lord Jesus Christ, who according to His abundant mercy has begotten us again to a living hope through the resurrection of Jesus Christ from the dead, to an inheritance incorruptible and undefiled and that does not fade away, reserved in heaven for you
,

(1 Pet 1:3,4 NKJV)
Wow! All our portion, our inheritance is wrapped-up in Jesus Christ. He is our portion; He is our life (Col. 3:4); He is our all-in-all (Col. 3:11). Because we are in Christ we have everything we need for life and godliness (2 Pet. 1:3).
Those who believe the truth of verse 57 will pray like verse 58. "I entreated Your favor with my whole heart; Be merciful to me according to Your word."
Though God is All-sufficient, I am not. "Our sufficiency is from God" (2 Cor. 3:5). So I pray wholeheartedly for God's favor, not half-heartedly with one hand behind my back clutching my sin. The prayer "be gracious to me" is the prayer of an empty-handed spiritually-bankrupt, sinner. It's the prayer of the repentant tax collector Jesus spoke of who would not even lift up his head but in lowliness simply beat his chest while pleading for God's favor and graciousness, praying very much like this verse: "Lord be merciful to me, a sinner" (Luke 18:13).
Say it with me, "My God is all-sufficient. I am not. He is my portion. I need nothing else."